Blog
Unveil's Holiday Gift Guide: Give the Gift of Beauty and Self-Care
by Jaclyn Estes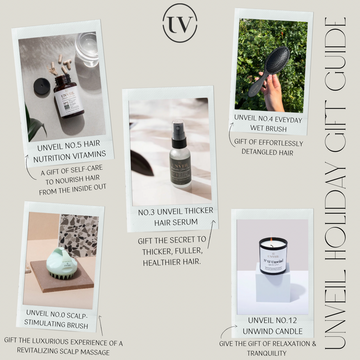 The holiday season is here, and what better way to celebrate than by sharing the gift of beauty, confidence, and self-care with your loved ones? At Unveil Hair Care, we've carefully curated the perfect selection of gifts to make this holiday season truly special.. Let's explore our Holiday Gift Guide and discover how each item is a gesture of love and well-being.
Unveil No.3 Thicker Hair Serum - The Gift of Anti-Aging Scalp Care, Thicker, and Fuller Hair. Give them a solution to STOP shedding and thinning now. 
Unveil No.3 Thicker Hair Serum is the ultimate secret to achieving thicker, fuller, and healthier hair. This luxurious serum is a perfect gift for those who long for healthier hair. Infused with apple stem cell cultures, it provides your hair with the vitality and strength it deserves, making it a must-have for a hair transformation that exudes confidence and beauty.
Unveil No.5 Hair Nutrition Vitamins - The Gift of Self-Care 
Give the gift of self-care with Unveil No.5 Hair Nutrition Vitamins. These bioavailable vitamins are not just about hair; they're about nourishing your hair from the inside out. Bioavailability refers to the body's ability to absorb and use nutrients effectively. In the case of these vitamins, it means that the nutrients are in a form that is easily absorbed by the body, making them highly effective in promoting healthier, stronger hair. Perfect for anyone seeking to enhance their hair health, these vitamins are a thoughtful choice. Your loved ones will appreciate the thoughtfulness and the chance to embark on a journey toward self-care, with these bioavailable nutrients supporting their hair and overall vitality.
Unveil No.4 Everyday Wet Brush - The Gift of Effortlessly Detangled Hair and slow the shedding. 
Say goodbye to tangles and hello to smoother, shinier hair with Unveil No.4 Everyday Wet Brush. This brush is the ideal gift for effortless hair maintenance, making detangling wet hair a breeze. The gift of hassle-free, feel-good hair is a present that will be cherished every day.
Unveil No.0 Scalp-Stimulating Brush - The Gift of a Luxurious Scalp Massage for men and women to stimulate hair growth. 
Imagine the luxury of a revitalizing scalp massage, right in your own home. Unveil No.0 Scalp-Stimulating Brush is the gift that provides just that. It promotes healthy hair growth while offering an invigorating experience. Show your loved ones that you care not only about their hair but also about their overall well-being.
Unveil No.12 Unwind Candle - The Gift of Relaxation and Tranquility
The holiday season can be a whirlwind of activity, and the gift of relaxation is a precious one. Unveil No.12 Unwind Candle brings the soothing aroma of tranquility into your loved one's home. It's the perfect way to unwind after a long day, creating an ambiance of calm and serenity.
This holiday season, make gift-giving extra special by choosing items from Unveil's Holiday Gift Guide. Each gift is more than just a physical item; it's a gesture of love, self-care, and confidence. Embrace the beauty and well-being of those you care about and celebrate the magic of the season with Unveil.