Blog
Embrace Small Business Saturday with Unveil: A Celebration of Local Entrepreneurship
by Jaclyn Estes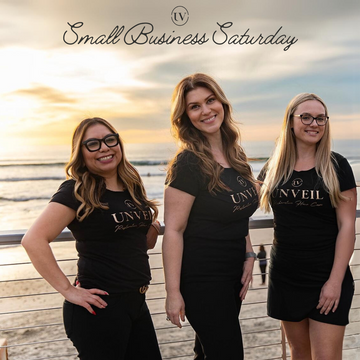 In a world filled with bustling chain stores and online giants, Small Business Saturday stands as a reminder to cherish and support local enterprises. It's a day when communities come together to celebrate the heart and soul of their neighborhoods, and Unveil Hair Care is proud to be a part of this vibrant tapestry.
Unveil Hair Care, a California-based hair care and beauty brand, embodies the spirit of entrepreneurship. Founded by Helena Gibson, Unveil has its roots in a small brick-and-mortar store called Strut Hair Solutions. Helena's journey is a testament to the power of determination, vision, and passion.
Helena Gibson started her career by helping her mother, who struggled with hereditary hair loss. This compassionate act led to the creation of Strut Hair Solutions in 2002. What began as a humble endeavor to help those with hair loss evolved into an award-winning business with a mission to boost confidence.
After nearly two decades of working closely with clients and observing industry gaps, Helena was inspired to take the next step. She had a vision to create a line of products that would enhance hair health and confidence. Thus, Unveil Hair Care was born.
Unveil Hair Care's product range includes hair growth serums, bioavailable vitamins, brushes, and candles, each designed to elevate hair care routines and promote self-care. With Helena's expertise and commitment to quality, Unveil Hair Care has quickly gained recognition as a trusted brand in the industry.
Small Business Saturday is not just about shopping; it's about fostering connections. Unveil takes pride in being a part of the local community, serving the needs of its customers while actively contributing to the thriving ecosystem of small businesses.
By supporting local businesses like Unveil, you are investing in the dreams and aspirations of entrepreneurs who strive to make a positive impact. In the case of Unveil, it's about helping people regain their confidence and find beauty in their uniqueness.
This Small Business Saturday, consider exploring Unveil's range of hair care and self-care products. Each purchase is not just a transaction; it's an opportunity to support a business that cares about its customers and is deeply invested in helping people feel beautiful, both inside and out.
Join us in celebrating Small Business Saturday by embracing the spirit of entrepreneurship, and discover the world of Unveil, where every product is a testament to the power of small businesses with big dreams.