The story that inspired Unveil Hair Care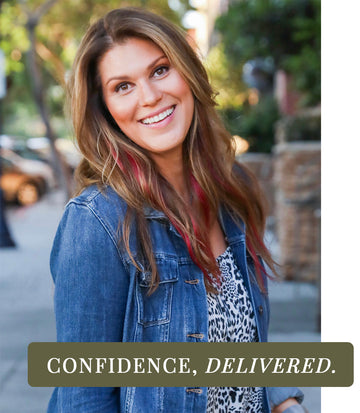 My desire to help others regain their confidence started over 20 years ago by helping my mom who has always struggled with thinning hair.
Her situation was like that of many others: it wasn't medical-related hair loss, it was hereditary hair loss. Watching her search for solutions inspired me to open the first Strut Hair Solutions in 2002. Our award-winning brick and mortar stores are located in Fresno & San Diego, California, where we sell hair enhancements such as wigs, hair pieces, and topical products.  
Now, fast forward 19 years of being in the hair loss industry—I've done everything from styling celebrities' hair, to writing a book about hair, and to being an educator for top hair replacement manufacturers. I've tried and sold it all…all the new products, all the new types of extensions, the latest wig crazes, the DIY hacks…and then I started noticing the gaps in the industry.  So I decided to make my own product, based off of my experience.

What sets us apart
Clients were tired of Minoxidil and synthetic ingredients. They came in wanting and asking for clean ingredients, and really examining what was in a product. That was the moment the lightbulb went off in my head and I decided to take all my experience and create my own products. I was in the best position I could've possibly been in: having a client base, plus a team in each of my stores for real-time, honest feedback. 
It took me almost two years to gather the right mixture of ingredients. Every obstacle that could have come up, did—and a few of them came up multiple times—but Unveil Restorative Hair Care is finally here! This has been a labor of love. I'm beyond thrilled to bring these products to the world and change the narrative around hair loss.
To you and your hair!
Xoxo,
Helena
Our Mission
Our mission is to create non-toxic, clean, sustainable, cruelty-free, and restorative hair-care products that promote a personal state of wellness, thus empowering you to feel confident in your appearance and show up as your best self. 
For far too long we have ignored the mental toll that hair loss can have on our confidence & self-esteem. After being in the hair loss industry for 20 years, I created Unveil to free us from that negative self-image.
Unveil your most confident self.