Blog
Unveil's Black Friday and Cyber Monday: A Celebration of Beauty and Savings
by Jaclyn Estes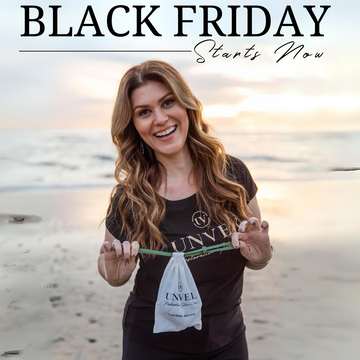 As the holiday season draws near, Unveil is excited to kick off the festive cheer with our incredible Black Friday and Cyber Monday deals! We're thrilled to offer our customers exclusive discounts and fabulous offers, making this an extravaganza of beauty and savings.
BOGO2023: Buy One, Get One
Get ready to stock up on your favorite hair essentials! With our sensational holiday deal, when you purchase our bestselling No.3 Thicker Hair Serum, you'll receive a delightful gift—a FREE No.0 Scalp Stimulating Brush! That's right, enhance your hair care routine and indulge in the luxurious experience of our No.3 Serum while invigorating your scalp with the No.0 Brush, all at an unbeatable value. Use code BOGO2023 at checkout to unlock this fantastic offer.
BF20: 20% Off on 90-Day Supply
But wait, there's more! Elevate your hair care regimen with our 90-day supply of No.3 Thicker Hair Serum, now available at an already discounted price. And here's the cherry on top: apply code BF20 for an extra 20% off! Yes, that's a whopping 20% discount on top of the discounted price for a 90-day supply of No.3 Serums, featuring three bottles for a long-lasting hair transformation.
At Unveil, we're committed to delivering premium-quality products that help you achieve your hair goals while embracing self-care and confidence. Our Black Friday and Cyber Monday offerings are designed to make your holiday shopping a joyous and rewarding experience, ensuring that you and your loved ones revel in beautiful, healthy hair.
How to Grab These Deals
It's simple! Visit our website during the sale period and add your desired products to your cart. Apply the respective discount codes—BOGO2023 for the No.3 Serum and No.0 Brush offer, and BF20 for the 90-day supply—to unlock your savings. Hurry, these incredible deals won't last forever!
We're ecstatic to celebrate the holiday season with our valued customers, ensuring that you step into the holidays with confidence, radiance, and incredible savings. Stay tuned for more exciting updates and exclusive offers from Unveil as we continue to bring you the best in hair care.
Elevate your hair care game with Unveil! Happy shopping and happy holidays!